#1 Drive Footfall with Tap to Map
Did you know you can get your Admessage to click through to popular map apps such as Google maps and Apple Maps. This is a great way to drive physical foot fall by directing people to new shop locations, events, festivals etc.
When someone clicks on your Admessage it will open a map on their phone showing the location of your event or business allowing them to get directions and plan their journey.
Setting up a tap to map campaign is simple.
Put store location into a map app such as Google Maps.
Right click indicated pin to display Lat. Long. Coordinates – see below
3. Paste Lat. Long. Values into Admessenger
4. That's it you've created a tap to map campaign.
#2 Make your Admessage stand out from the crowd.
Your Admessage needs to compete for a user's fickle attention. The Admessage scroll already grabs attention but this can be enhanced. It's easy to make your Admessage really stand out using high impact features such as Bold, Italics, underline, colour, hi-lights and emojis. To do this just hi-light the characters you want to add impact to. That's it!
Use high impact features
2. Add Emojis. Everyone uses emojis to add emotion and humour to their messages and even email. You can add emojis to your Admessages to boost their standout. To add emojis go to https://emojipedia.org/ choose the emoji from their library and paste it into your Admessage. See below.
#3 Save time on Geo-targeting
Here's a great timesaver. If you are looking to rebook a campaign or book several campaigns using the same locations, you can easily save your GPS co-ordinates for future use rather than inputting them again manually.
When co-ordinates are input and a campaign is submitted, these are automatically saved using the same name as the campaign, along with the date and time so you can easily tell which GPS list is which. This list will be available again as a selectable option for future bookings in the dropdown menu, See below. Just pick the set of codes and all your Geo locations are automatically applied to the campaign.
#4 Scheduling different Admessages within a campaign
One powerful feature of AdMessenger is the ability to run multiple messages. As well as the default setting – running evenly during a campaign, you can schedule messages to start independently at specific times – replacing former messages as they do. This is great if you're looking to advertise time sensitive or time specific offers, events or messages.
Simply select the schedule button underneath the message section and select your date you want it to start and the relevant clickthrough action.
If you'd like to schedule this message to run again from another date hit the blue plus button shown below: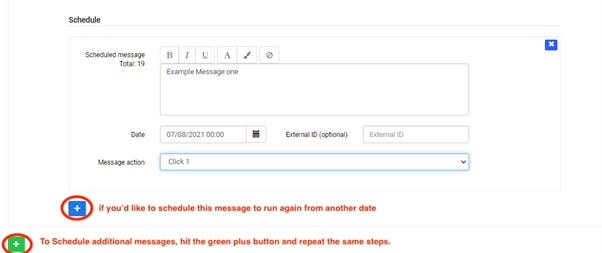 The ability to schedule messages means that if you wanted to have several on rotation, you would only need to set up the messages once – and input as many schedules as you need e.g three separate messages, each scheduled to rotate on different weeks over the duration of the campaign lifetime.
#5 Create Multiple Message actions
As well as the ability to have multiple messages, you can also have multiple actions. This is great if you have different landing pages you want to click through to for different messages. Or, simply schedule the same messages but with different calls to action.
Hit the green + button (shown below) under the actions section and input the details as needed. You can use any combination of links, Map locales or videos

These message actions then become available on dropdown for your messages in the Message Action field.
These tips will help you get the most from your Admessage campaigns. If you have any questions please email planning@ads360.co.uk.